The Asia Pacific MedTech Forum 2018, hosted by the Asia Pacific Medical Technology Association (APACMed), from 9-11 October at Suntec Singapore International Convention and Exhibition Centre, was the most successful to date!
With a record attendance of over 750 delegates from over 25 countries, this year's event was also momentous in that we successfully engaged both healthcare providers and startups from across the region.
Under the theme "Technology in Healthcare: Empowering Patients; Driving Outcomes", the event brought together stakeholders from across the healthcare and technology spectrums, to address how emerging technologies, innovations in digital and data management, and advancements in medical technologies are impacting healthcare delivery in the region, and more importantly what this means for patients and providers of the future.
Overview
The global healthcare landscape has undergone a metamorphosis in recent years, and the convergence of artificial intelligence, computer aided surgery, wireless communication, mobile health apps and wearables is already profoundly impacting all actors across the ecosystem. Applications are enabling doctors make better informed clinical decisions, whilst monitoring systems are empowering patients to effectively monitor and manage their health.
Technology convergence is set to be a key engine of growth for the medical technology industry, as it promises to deliver enhanced products and more effective, patient-centered, technology-enabled care.
Programme
This year's programme explored the multi-faceted impact of technology in healthcare, from day-to-day innovations such as patient wearables to whole system change approaches to introducing data and artificial intelligence in healthcare systems. The programme will be divided into five tailored tracks to address the key issues and challenges faced by different stakeholders.
The Connected Future of Patient Care – discussing how embracing connected technologies can help providers achieve the goals of value-based and consumer-driven care
Strategies for Success for MedTechs – seeking to address the multiple aspects of technology and their role in driving better patient outcomes across Asia Pacific
Building the MedTech Ecosystem – showcasing how technology can advance the health care space
Digital Health – examining how digital technologies could transform key areas of health care
Market Access – considering the current landscape and providing perspectives on what lies ahead in these key markets: China, India, and ASEAN
Find out more about the 2018 Programme here.
2018 Speakers
Ashley McEvoy, Executive Vice President, Worldwide Chairman, Medical Devices, Johnson & Johnson
Kevin A. Lobo, Chairman and Chief Executive Officer, Stryker
James Lim, Executive Vice President and President, Greater Asia Becton Dickinson
Vladimir Makatsaria, Chairman, Asia Pacific Medical Techology Association; Company Group Chairman, Johnson & Johnson Medical Devices Asia Pacific; Chairman, Johnson & Johnson China
Sanjay Prabhakaran, President Asia Pacific, Hologic
Rajkumar Narayanan, Region President, Alcon, Asia
Dr Zoran Bolevich, Chief Executive and Chief Information Officer, eHealth NSW
Neo Kah Yean, Senior Vice President, Commercialisation (Biomedical Sciences) Division, Exploit Technologies (ETPL)
Dr John Richard Thornback, Chief Operating Officer, Diagnostics Development Hub; Exploit Technologies Pte Ltd (ETPL); Agency for Science, Technology and Research (A*STAR)
Paul Grand, Chief Executive Officer, MedTech Innovator
Dr Anurag Mairal, Adjunct Professor of Medicine and Director of Global Outreach Programs, Stanford Byers Center for Biodesign, Stanford University
Annette Hicks, Senior Health Advisor, IBM Watson Health
Dr Mark McClellan, Former FDA Commissioner, Director and Robert J. Margolis, MD, Professor of Business, Medicine and Policy
Dr Steven Tucker, Chief Medical Officer, CXA Group
Steve Leonard, Founding Chief Executive Officer, SGInnovate
Caroline Riady, Chief Executive Officer, Siloam Hospitals (Indonesia)
Chew Kwee Tiang, Chief Executive Officer, Khoo Teck Puat Hospital & Yishun Health
Gautam Khanna, Chief Executive Officer, P.D. Hinduja Hospital & MRC, Mumbai, India
Associate Professor Keith Lim Hsiu Chin, Group Chief Value Officer, National University Health System
Dr Iain Tan, Senior Consultant GI Medical Oncologist, Department of Medical Oncology, National Cancer Centre, Singapore
Dr Natasha Reyes, Head of Operational Support Unit, Interim Executive Director, Médecins Sans Frontières
2018 Programme Highlights
How can MedTechs help hospitals drive better outcomes?
Predicting and Inventing a new Era of Health with AI
How Disruptive Forces Are Reshaping MedTechs
Precision Medicine: Will it Deliver on its Promises?
The Future of Healthcare is Digital

Artificial Intelligence: The Emergence of Intelligence Care
Gamification and Virtual Reality: Enablers of Care for the Healthcare Industry
Blockchain in Value Based Health Care
Healthcare Systems in Transition and Market Access

Is there "Value" in Value Based Health Care?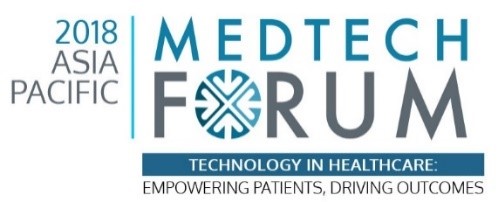 758  attendees
84 speakers
Participants from 25 countries
53 sponsors and exhibitors