The United Nations has adopted 17 SDG (Sustainability Development Goals) in 2015 stating that development must balance social, economic, and environmental sustainability1. In recent years, several countries in the APAC region have made early commitments to reduce GHG emissions, aiming to achieve significant reductions by as early as 20302. Amid growing prioritization of Environmental, Social and Governance (ESG) considerations for companies across the globe; APACMed has partnered with Bain and Co. to focus on ESG as a strategic priority for MedTech in APAC.
As a part of the initiative, we brought together nominated representatives from 15 member companies including Abbott, BBraun, Boston Scientific, Cardinal Health, Fresenius Medical Care, Johnson and Johnson, Karl Storz, Medtronic, Olympus, Roche, Siemens Healthineers, Steris, Stryker, Teleflex, and Thermo Fisher Scientific.
As a first step, the project aims to understand the challenges faced in navigating the ESG landscape from different stakeholders perspectives- policymakers, customers, employees and executives.
For a better understanding from a policymaker perspective- a first edition of a dashboard was developed that includes a comprehensive dashboard of evolving environmental regulations for 6 key APAC markets (Australia, China, India, Japan, South Korea and Vietnam). For each country, the dashboard provides a detailed landscape scan of what is required to navigate the market on specific environmental themes.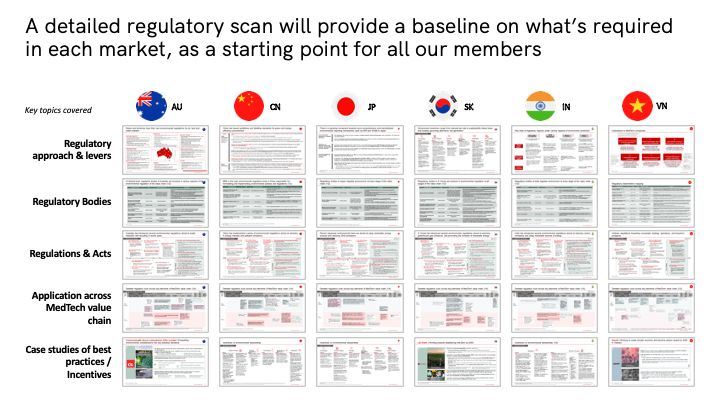 For gathering customers insights, a survey of personnel from large hospitals and healthcare groups was conducted across 6 key APAC markets. For employees perspectives, a survey of employees with different functions (frontline, corporate and regional functional leads) from member companies was conducted This was supplemented by 1 on 1 interviews with APACMed member company executives to better understand their priorities and top of mind concerns in response to ESG.
The learnings from all of the above will be put together in the form of a report that will be released in the later part of 2023. The report will also make recommendations on a collective path forward for the industry on ESG in APAC.
---
1 United Nations Sustainability Development Goals
Please note that the full dashboard is accessible by members only – member login is required to access.