Date
Oct 12 2023
Expired!
Deep Dive on the National Health Insurance Reimbursement Guidelines for Digital therapeutics (DTx) in Korea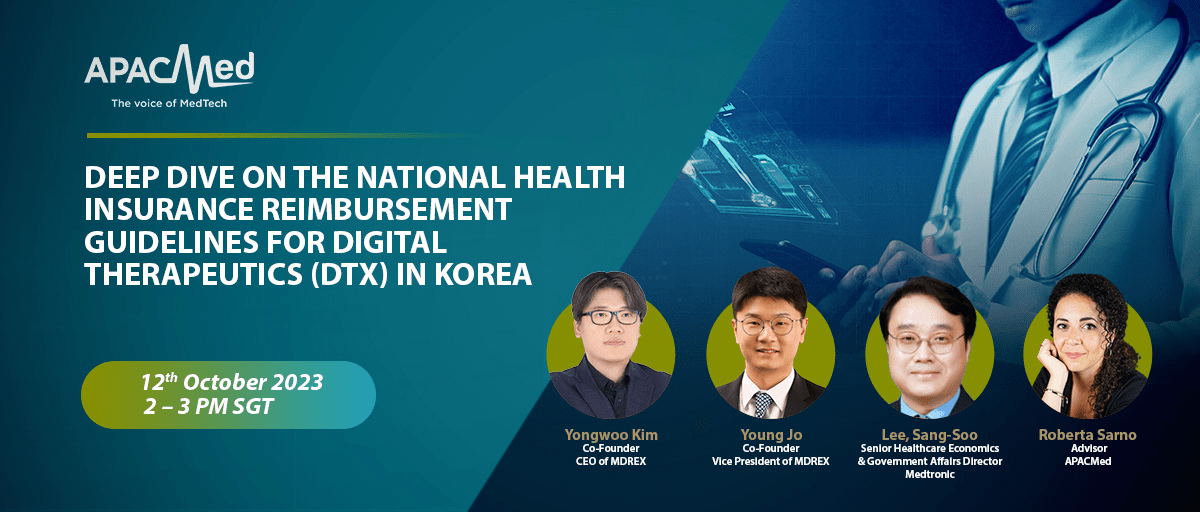 The APACMed Digital Health Reimbursement Alliance has been actively advocating for fit-for-purpose Digital Health reimbursement, and striving for equitable access to Digital Health technologies for patients within the Asia Pacific region.
Last August, the Korean Health Insurance Review and Assessment Service (HIRA) introduced ground-breaking updates to their national health insurance reimbursement guidelines, specifically tailored to accommodate digital therapeutics (DTx) and artificial intelligence (AI)-embedded technologies. These revised guidelines are designed to facilitate the rapid adoption of cutting-edge medical technologies, emphasizing evidence generation through a comprehensive evaluation of innovative medical devices. APACMed is organising a webinar to brief our members on this topic.
Join the following speakers to take a deep dive into the National Health Insurance Reimbursement Guidelines for Digital Health in Korea:
Yongwoo Kim, Co-founder and CEO, MDREX
Young Jo, Co-founder and Vice President, MDREX
Lee, Sang-Soo, Senior Healthcare Economics & Government Affairs Director, Medtronic
Roberta Sarno, Advisor, APACMed